HASLAB Jabba's Sail Barge Funding Update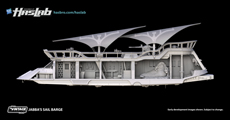 What a showing so far for Hasbro's HASLAB Jabba's Sail Barge crowd-funded project. As of this morning, over 1400 people have pledged their support for the Khetanna! Help spread the word to keep that pledge total moving to make the Sail Barge a reality!

If you are not in the US and are upset you can't support the project, we've got an update on global availability from Hasbro PR:

"It has been great to hear the reaction to the HasLab launch and know there is a strong interest from our fans globally. Right now, this initiative is available in the U.S., but we've been working for a while on how best to offer Jabba's Sail Barge to fans globally if the campaign in the U.S. successfully reaches the 5,000 threshold and hope to have an update to share soon."
If you're one of those global fans, hang tight. Hopefully the US campaign will succeed and Hasbro will be able to make sure that everyone who is willing to pay will get one.


&copy Copyright 2002-2018 JediDefender.com. All Rights Reserved.
Disclaimer | Privacy Policy