New Solo Black Series 6" Press Images

Hasbro has officially released new high-res press photos for a trio of upcoming Black Series 6" items. Click on the thumbnails below to check out the new pics of basic 6" figures of L3-37 and Val, as well as a look at the deluxe Enfys Nest's Swoop Bike set.










STAR WARS: THE BLACK SERIES 6-INCH Figure Assortment
(Ages 4 years & up/Approx. Retail Price: $19.99/Available: Spring 2018)
Take your STAR WARS collection to the next level with these incredibly detailed figures. These premium 6-inch scale figures are designed with extensive detail and articulation for the ultimate collector. Characters include HAN SOLO, LANDO CALRISSIAN, QI'RA, VAL, L3-37 and more. Each figure sold separately. Available at most major retailers and on HasbroToyShop.com.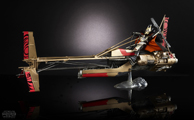 STAR WARS: THE BLACK SERIES DELUXE ENFYS NEST'S SWOOP BIKE VEHICLE
(HASBRO/Ages 4 years & up/Approx. Retail Price: $59.99/Available: Fall 2018)
Ride in style with this premium 6-inch scale ENFYS NEST'S SWOOP BIKE from SOLO: A STAR WARS STORY! Carefully crafted with true-to-story design and elaborate detail, this collectible vehicle also comes with a highly articulated ENFYS NEST figure. Includes vehicle, figure, and collector stand. Available for pre-order on Amazon.com.


***end***

To check out more high-res press images of the Solo: A Star Wars Story toys, check out our Image Database.



&copy Copyright 2002-2018 JediDefender.com. All Rights Reserved.
Disclaimer | Privacy Policy